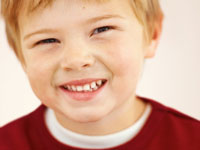 Overlook children's dentist, Ward, D.M.D., has that special touch for making children comfortable and happy at the dentist! From the first baby teeth through the teenage years, your child's unique dental health needs are our top priority.
At Interstate Dental Clinic we believe that it's important to make sure children understand all of the activities that take place during their pediatric dentistry exam and treatment, so we take the time to explain it to them in easy-to-understand words. As an experienced kid's dentist, we work together with you to teach your child the important dental hygiene skills like brushing and flossing that will ensure a sparkling, healthy smile that lasts a lifetime.
Why wait another moment for quality dentistry for children? Call our firendly staff at (503) 285-5307 or complete our simple online form to schedule a consultation. From baby teething to adolescence, we're dedicated to providing your kids with affordable, top-quality dental care.